HIGHLIGHTS
• Card Edge connectors available in 350,000+ standard styles with options for custom variations
• Contact spacings of 0.050", 0.100", 0.125", 0.150", 0.156" and 0.200"
• Gold on contact mating area or gold over nickel contact plating
• PCB thru-hole, wirewrap, solder eyelet, extender board tail, and other specialized contact options
• From 2 to 188 contacts in single, bridged, and dual rows with or without card supports
• Styles for many computer standards including the latest versions plus PCI, EISA and ISA
---
Card Edge Connectors
Card Edge Connectors
| Series | Description |
| --- | --- |
| 100 Series | Contacts | Loose and on strip |
| 103 Series | Contacts | Loose and on strip |
| 105 Series | Contacts | Loose and on strip |
| 106 Series | Contacts | Loose and on strip |
| 243 Series | Card Edge Connector | 0.200" (5.08mm) Pitch | 0.200" (5.08mm) Row Spacing |
| 305 Series | Card Edge Connector | 0.156" (3.96mm) Pitch | 0.140" (3.56mm) Row Spacing |
| 306 Series | Card Edge Connector | 0.156" (3.96mm) Centreline Spacing |
| 307 Series | Card Edge Connector | 0.156" (3.96mm) Pitch | 0.200" (5.08mm) Row Spacing |
| 310 Series | Card Edge Connector | 0.156" (3.96mm) Pitch | 0.200" (5.08mm) Row Spacing |
| 315 Series | Card Edge Connector | 0.156" (3.96mm) Pitch | 0.140" (3.56mm) Row Spacing |
| 316 Series | Card Edge Connector | 0.156" (3.96mm) Centreline Spacing |
| 317 Series | Card Edge Connector | 0.156" (3.96mm) Pitch | 0.200" (5.08mm) Row Spacing |
| 322 Series | Card Edge Connector | 0.156" (3.96mm) Pitch | 0.200" (5.08mm) Row Spacing |
| 325 Series | Card Edge Connector | 0.100" (2.54mm) Pitch | 0.300" (7.62mm) Row Spacing |
| 333 Series | Card Edge Connector | 0.156" (3.96mm) Pitch | 0.200" (5.08mm) Row Spacing |
| 336 Series | Card Edge Connector | 0.156" (3.96mm) Pitch |
| 337 Series | Card Edge Connector | 0.156" (3.96mm) Pitch | 0.200" (5.08mm) Row Spacing |
| 338 Series | Card Edge Connector | 0.156" (3.96mm) Pitch | 0.200" (5.08mm) Row Spacing |
| 341 Series | Card Edge Connector | 0.100" (2.54mm) Pitch | 0.140" (3.56mm) Row Spacing |
| 342 Series | Card Edge Connector | 0.100" (2.54mm) Pitch | 0.200" (5.08mm) Row Spacing |
| 345 Series | Card Edge Connector | 0.100" (2.54mm) Pitch | 0.200" (5.08mm) Row Spacing |
| 346 Series | Card Edge Connector | 0.125" (3.175mm) Pitch | 0.25" (6.35mm) Row Spacing |
| 355 Series | Card Edge Connector | 0.156" (3.96mm) Pitch | 0.140" (3.56mm) Row Spacing |
| 356 Series | Card Edge Connector | 0.156" (3.96mm) Centreline Spacing |
| 357 Series | Card Edge Connector | 0.156" (3.96mm) Pitch | 0.200" (5.08mm) Row Spacing |
| 368 Series | Card Edge Connector | 0.156" (3.96mm) Pitch | 0.200" (5.08mm) Row Spacing |
| 379 Series | Card Edge Connector | 0.150" (3.81mm) Pitch | 0.200" (5.08mm) Row Spacing |
| 387 Series | Card Edge Connector | 0.156" (3.96mm) Pitch | 0.200" (5.08mm) Row Spacing |
| 391 Series | Card Edge Connector | 0.100" (2.54mm) Pitch | 0.140" (3.56mm) Row Spacing |
| 392 Series | Card Edge Connector | 0.100" (2.54mm) Pitch | 0.200" (5.08mm) Row Spacing |
| 395 Series | Card Edge Connector | 0.100" (2.54mm) Pitch | 0.200" (5.08mm) Row Spacing |
| 395-ISA Series | Card Edge Connector | 0.100" (2.54mm) X 0.200" (5.08mm) | IBM-AT Standards |
| 396 Series | Card Edge Connector | 0.125" (3.175mm) Pitch | 0.25" (6.35mm) Row Spacing |
Pressfit Card Edge Connectors
| Series | Description |
| --- | --- |
| 171 Series | Micro TCA + Connector 0.75mm Pitch |
| 717 Series | Card Edge Connector | Pressfit | 0.156" (3.96mm) Pitch |
| 725 Series | Card Edge Connector | Pressfit | 0.100" (2.54mm) X 0.200" (5.08mm) Row Spacing |
| 726 Series | Card Edge Connector | Pressfit | 0.125" (3.175mm) Pitch | 0.25" (6.35mm) Row Spacing |
| 737 Series | Card Edge Connector | Pressfit | 0.156" (3.96mm) Pitch | 0.200" (5.08mm) Row Spacing |
| 745 Series | Card Edge Connector | Pressfit | 0.100" (2.54mm) X 0.200" (5.08mm) Row Spacing |
| 746 Series | Card Edge Connector | Pressfit | 0.125" (3.175mm) Pitch | 0.25" (6.35mm) Row Spacing |
Metal to Metal Card Edge Connectors
| Series | Description |
| --- | --- |
| 408 Series | High Reliability Inter-Lock | Metal to Metal |
| 415 Series | High Reliability Inter-Lock | Metal to Metal |
| 421 Series | High Reliability Inter-Lock | Metal to Metal |
| 422 Series | High Reliability Inter-Lock | Metal to Metal |
| 423 Series | High Reliability Inter-Lock | Metal to Metal |
| 424 Series | High Reliability Inter-Lock | Metal to Metal |
| 438 Series | High Reliability Inter-Lock | Metal to Metal |
High Temp Card Edge Connectors
| Series | Description |
| --- | --- |
| 807 Series | High Temp Card Edge Connector 0.156" (3.96mm) Pitch |
| 833 Series | High Temp Card Edge Connector 0.156" (3.96mm) Pitch |
| 837 Series | High Temp Card Edge Connector 0.156" (3.96mm) Pitch |
| 842 Series | High Temp Card Edge Connector 0.100" (2.54mm) Pitch |
| 845 Series | High Temp Card Edge Connector 0.100" (2.54mm) Pitch |
| 846 Series | High Temp Card Edge Connector 0.125" (3.175mm) Pitch |
| 857 Series | High Temp Card Edge Connector 0.156" (3.96mm) Pitch |
| 887 Series | High Temp Card Edge Connector 0.156" (3.96mm) Pitch |
| 892 Series | High Temp Card Edge Connector 0.100" (2.54mm) Pitch |
| 895 Series | High Temp Card Edge Connector 0.100" (2.54mm) Pitch |
| 896 Series | High Temp Card Edge Connector 0.125" (3.175mm) Pitch |
High Speed Card Edge Connectors
| Series | Description |
| --- | --- |
| 270 Series | SAS Connector 1.27mm Signal Pitch 0.80mm SCSI Pitch |
| 271 Series | SAS Connector 1.27mm Signal Pitch 0.80mm SCSI Pitch |
| 272 Series | SAS Connector 1.27mm Signal Pitch 0.80mm SCSI Pitch |
| 273 Series | SAS Connector 1.27mm Signal Pitch 0.80mm SCSI Pitch |
| 370 Series | Card Edge Connector SMT 0.8mm Pitch |
| 371 Series | Card Edge Connector SMT 0.8mm Pitch |
| 470 Series | Board to Board Male Vertical SMT Connector 1.27mm Pitch |
| 472 Series | Board to Board 0.8 mm Pitch |
| 473 Series | Board to Board 0.8 mm Pitch |
Card Edge Connector | EDAC
Over the years our product offering has evolved and grown, and we now have one of the largest ranges of interconnect products on the market. Our cardEDGE+ pcb edge connector range is no exception and offers many features and benefits that allow customers more flexibility with their design.
They are suitable for applications such as Power Supplies, Storage Devices, Navigational Equipment, Industrial Controls and many more.
What is an edge connector?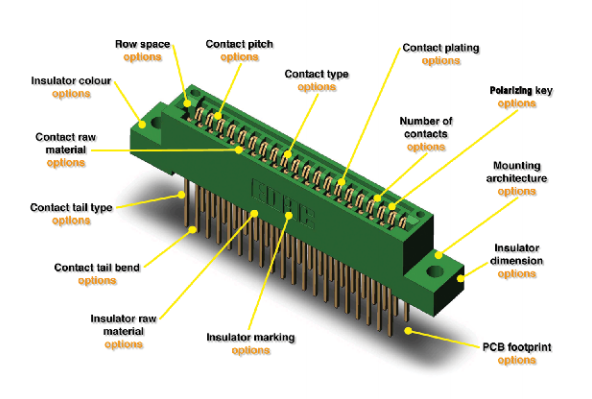 More Flexibility
Today we supply a wide variety of products and EDAC prides itself on its flexible approach in the design of connectors. We see this ability as our differentiator. Using our cardEDGE+ edge connectors means customers have additional design options and more opportunity to tailor their interconnect requirements to their actual needs.
Additional contact terminations
Extra mounting options
Mutiple card guide solutions
High temperature insulators
Extra row spaces
Multiple PCB footprints
Choice of insulator colours
Contact plating options
Superior quality
Competitively priced
We are proud of our capability to offer cardEDGE+ edge connectors manufactured to customers' specific requirements. We continually update and advance our products to ensure that our customers have access to the latest and best products available.Contact us for additional information.
---
Related Categories