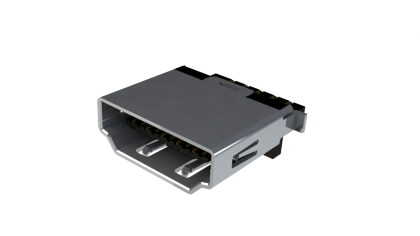 EDAC HDMI connectors follow industry standards and are available in vertical or right angle orientations. Single or dual port versions are available. These deliver high speed video transmissions resulting in very high resolution images.
HDMI Connectors Brochure:
Interconnect Solutions Brochure:
---
---
HDMI connector
An HDMI (High-Definition Multimedia Interface) connector is a fully digital audio/video standard and interface for transmitting encrypted streams consisting of uncompressed video data and compressed or uncompressed audio data.
Types of HDMI connectors
There are currently five types of HDMI connectors.
Type A: Is the most common; it consists of 19 pins and is sufficient to display in 1080p with multi-channel sound.
Type B: Is compatible with Dual-link DVI which doubles the bandwidth on a type A cable. Is allow transfers of up to 20.4 Gbit / s.
Type C: Also called mini-HDMI, type C (10.42 mm × 2.42 mm) is a compact version of type A (also having 19 pins) specially intended for camcorders, digital cameras, touch pads.
Type D: Also called micro-HDMI, type D is even more compact (6.4 mm × 2.8 mm) and is found on some tablets, ultrabook type laptops and smartphones.
Type E: An automotive connection system which features a locking tab to prevent the cable from slackening and a shell to prevent moisture and dirt interfering with signals.

Engineering options
Various options are available for an HDMI connector which include right angle, right angle upright, and vertical mating orientation. Through hole and surface mounted (SMD) contact tail types are available for cable or board mounting.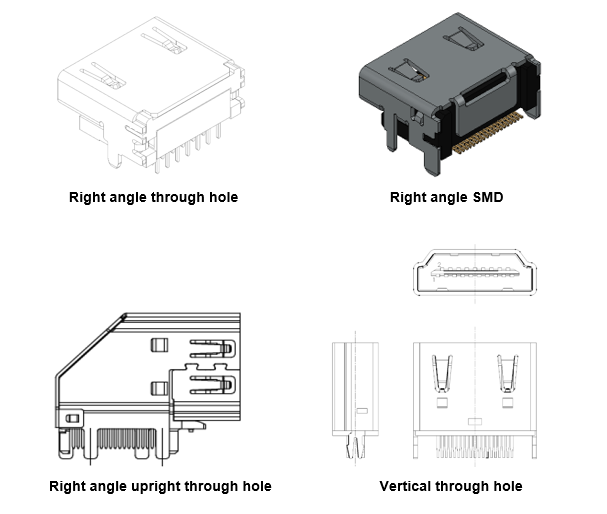 We continually update and advance our products to ensure that our customers have access to the latest and best products available. Contact us for additional information.