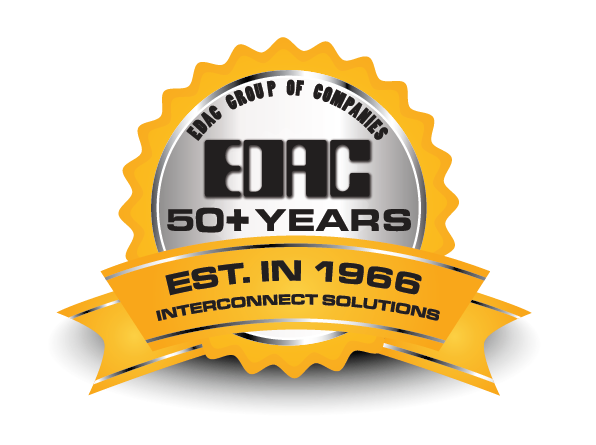 EDAC HERITAGE
Established in 1966, EDAC soon became a world leader in providing connectors for Card Edge and Rack & Panel applications. Since then, we have expanded our product offering to include one of the widest ranges of interconnect solutions in the world. Products include D-Sub, RJ45, USB & Firewire, Waterproof, PLCC Sockets, Pin Headers, Cable Assemblies and Custom Solutions. Our innovation guides us into new customer opportunities as we challenge the status quo. This belief resonates throughout the organization and results in exceptional quality service globally.
Global Impact- Market Served
EDAC makes some of the most complex and innovative interconnect products in the world. Recognized as a global leader, EDAC provides design, manufacturing and logistics solutions, delivering superior quality and customer service to global distribution channels and Original Equipment Manufacturers (OEMs) in computing and storage, medical, aerospace, industrial, communications networks, consumer and clean technology sectors.
Our Service
We have an extensive Global customer support system that includes dedicated inside sales service, highly trained field support, and a global distributor and representative network that can co-ordinate the delivery of EDAC products to any factory in any country and proactively resolve any issues in a timely manner.
At EDAC, we are proud of our global Engineering Team which is well positioned to serve customers throughout the world. Our specialty is resolving electronic connector issues by designing cost-effective solutions that exceed the expectations of our customers. Our value proposition includes dedicated account teams for our customers that include ODM, OEM, CM and distribution channels.
We are committed to our Total Quality System shipping error-free parts on time and at fully competitive prices. Our highly trained Quality Assurance Technicians are based throughout our global logistic centers for real time FIFO inspection. These Technicians guarantee that EDAC products meet the highest worldwide quality standards through rigorous inspection.
Our collaborative and multi-dimensional process brings together engineers and manufacturing personnel to ensure the design cycle is seamless. At EDAC we will continue to use our manufacturing expertise coupled with the extraordinary talent and experience within our organization to offer the best interconnect products on the market. We remain practical and flexible when change is needed.

The Environment
EDAC is committed to the environment. As new global directives are added, we are constantly updating our policies and processes to ensure we have the least amount of impact on our environment for the present and generations to come. Our manufacturing services are dedicated to recycling all production byproducts. Our multi-regulatory compliance requirements include RoHS, UL, ISO, REACH, Conflict Materials, California Prop 65 and ITAR as well as others.
mission
To stay on the forefront of connector technology while continuing to support our valued customers with cost effective interconnect solutions