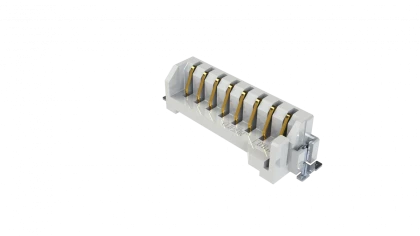 EDAC's ClipZin is a PCB-mounted edge connector that allows single-board modules to be fixed to the PCB. Featuring a low-profile, surface mount installation, the ClipZin will allow rapid connection and disconnection of the module, while a retention clip ensures that the board will not un-mate during use. This makes it the ideal solution for the development environment, while also providing the security required for production applications.
Interconnect Solutions Brochure:
---
---
EDAC being known as a leader in card edge (board-to-board) connector technology has understood the need for flexibility and quick lock solutions in the industry.
EDAC's new ClipZin SMT Edge Connector is a new innovative connector technology that allows for single board modules to be temporarily placed instead of fixed to a printed circuit board (PCB). This technology replaces the need for pin headers by providing an alternative to soldering pin headers to a single module board and allows for it to be snapped into position with a clip available to hold the module in place for extra retention.
Allowing the option of removing contact holes from the single module boards where the pin headers would normally be placed before being soldered, the ClipZin SMT connector requires a castellated edge PCB design which is essentially half of the original contact hole. This removal allows for increased real estate on the module. This additional real estate could be used for additional traces and increased module design possibilities, or completely removed to create a more compact design suitable for today where products continue to get smaller (see more on the common connector miniaturization trends and considerations).
Whether it's a hobbyist project, or within full production designs, being able to remove the board easily enables quicker design, programming, and testing.
---
Related Categories