EDAC E-Sata Connectors are an established computer bus solution interconnecting mass storage devices in a system. E-Sata has similar infrastructure to standard USB's but utilizes 7 contacts. Both data and power can be transmitted through a single connector.
SATA Connectors Brochure:
Interconnect Solutions Brochure:
---
SATA connector
A SATA (Serial AT Attachment) connector is used as an interface for connecting a host bus adapter to mass storage devices such as hard disk drives, optical drives, and solid-state drives. Although SATA connectors look like a single port connector, SATA has two ports, one for data (7 pins) and one for power (15 pins).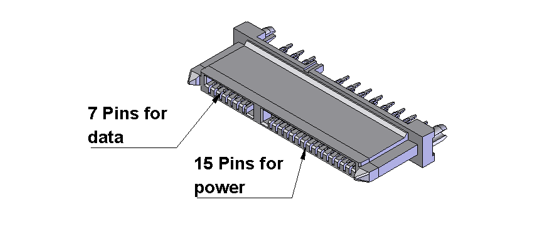 Engineering options
There are two types of SATA connectors, right-angle or vertical. This type of connector can be supplied with SMT or solder (PC) tail contacts for easy mounting onto a PCB.
We continually update and advance our products to ensure that our customers have access to the latest and best products available. Contact us for additional information.