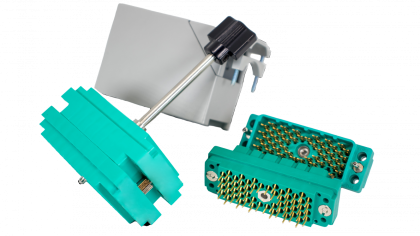 Highlights
Industry standard connector with high reliability contacts.
Hermaphroditic contact design for no-fail interconnections
100% fit, form and function alternative to Elco 8016 series
Gold over nickel plating for wire hole, PCB, wire-wrap and crimp contacts
Crimp contacts available pre-installed, separately in bulk or on a reel for automated process
In sizes of 14 to 120 positions, with actuating screw or lock nut both with polarizing hardware
Plastic and metal covers with cable clamps for strain relief
Rectangular Connector Brochure:
Interconnect Solutions Brochure:
---
RECTANGULAR CONNECTORS
Rack and Panel Connectors
| Series | Description |
| --- | --- |
| 516 Series | Rack and Panel Connectors | Available in 20, 38, 56, 90, and 120 positions |
| 519 Series | Rack and Panel Connectors | Available in 14 and 36 positions |
| 520 Series | Hermaphroditic In-line Cable Connector |
| 556 Series | Rack and Panel Connectors | .156" (3.96mm) Contact Spacing | 3 Pin |
| Covers Series | Rack and Panel Connector Covers | For 516 and 519 Series |
EDAC Rack and Panel Connectors
Rack and panel connectors, also known as rectangular connectors, are ideal for applications with many wires in a backplane or where very high continuity signals are required.
What is a rack and panel connector?
EDAC Rack and panel plug and receptacle connectors are available in 14, 20, 36, 38, 56, 90 and 120 pin sizes. The Edacon hermaphroditic contacts, with four contact mating surfaces, have 10 micro inches of gold plating. Terminations include crimp, PC Tail, wire hole, and wire wrap. The following image shows a plug and receptacle rack and panel connector.

EDAC's hermaphroditic contact design
The following image shows a cross section of EDAC's hermaphroditic contact design with its forked blades. The contacts align in the male and female insulators at 90 degrees to one another. When mated together they provide four points of contact, creating a gas tight connection. Very high quality, high continuity connections.
The contacts have chamfered or beveled edges that float in the insulator. With the large number of connections and to compensate for stacked tolerances, this float allows for some movement of the contacts, to help in the ease of mating.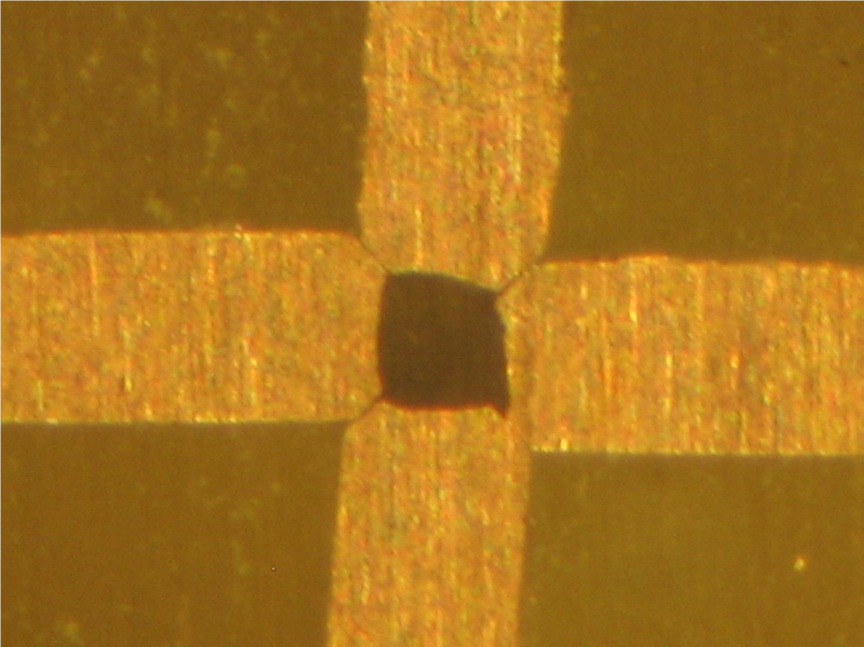 Rack & panel hoods and back shells
Optional covers are available with side or top cable entry, and include the strain relief. The plastic covers provide dust and debris protection while the metal covers provide this, along with EMI protection. The versatile metal cover has a removable side panel to help facilitate the ease in inspection and replacement of wiring in the field. The following image shows EDAC's metal cover with EMI protection.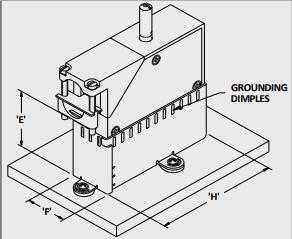 Accessories and tools
Contacts and covers are available separately or can be combined with the connector as one part number. Actuating screws or locknuts, and polarizing hardware come standard. Polarizing pins and sockets can be adjusted in the field to 288 different mating combinations.
Hand crimp tools, or presses and applicators for automated production of your cable assemblies, are available. Addition tools for contact installation, or extraction, and for changing the polarizing hardware, are also available.
Applications
The primary markets are broadcast, automotive, transportation, telecommunications, and energy. Each of the following is an example of a benefit of using a rack & panel connector.
Broadcast
Audio patch bays must deliver clean, high quality signals. It is imperative that there's no poor-quality signals as it could cost a company a loss in advertising revenue.
Automotive
Automotive test panels are very important, and poor-quality signals could affect the readability of the vehicles' systems causing a company to send out a defective car. Improving the signal quality by using a rectangular connector will ensure better readability.
Energy
Oil and gas refineries need a very reliable, high continuity connection for the safety of their employees, and the systems they operate. Systems with pressure transducers and temperature sensors feed through data loggers that connect back to computers. The rack and panel connectors ensure those are pure signals; increasing the accuracy of the results.
The rack and panel connector is best suited for industries/customers that require a high continuity, highly reliable connection, with very high shock and vibration resistance. MIL-C-28731 available.
EDAC directly crosses to AVX Elco 8016 and 8017 connector family.
For more information about EDAC's rack and panel offering, please contact us.
---
Related Categories