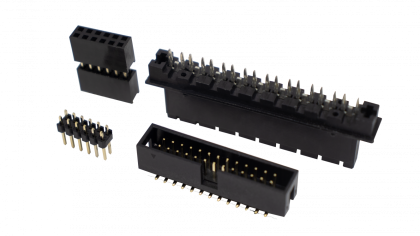 Highlights
• Header posts can be cut to any height and board depth
• Wide variety of plating options
• Vertical, right angle or custom bends
• Breakaway design allows for easy separation into smaller units
• Sockets available with right angle and SMT contacts
Header Connector Brochure:
Interconnect Solutions Brochure:
---
Header Connectors
What is a Pin Header?
A header is an electrical connector consisting of one or more rows of pins. Headers come in two forms: male (pin) and female (socket). Headers are often used on PCB's (printed circuit boards) for making connections. Connections can be to other PCB's, plugging in wires or other connectors or can be used as a jumper (a jumper is a conductor used to close a break or by-pass electrical current. • Header posts can be cut to any height and board depth • Wide variety of plating options • Vertical, right angle or custom bends • Breakaway design allows for easy separation into smaller units • Sockets available with right angle and SMT contacts
Pin headers, box headers, and socket headers could be used in various applications, including: video, lighting, control pads, hand-held devices, telecom, consumer electronics, industrial controls, medical, energy, etc.
For more information about EDAC's header connector offering, please contact us.
---
Related Categories