EDAC'S 140 Series Inline Plug & Socket Connectors | *NEW PRODUCT*

161 Alden Road, Units 7 & 8, Markham, ON, Canada, L3R 3W7 Tel: (416) 754-3322 Fax: (416) 754-3299
EDAC Inc, a global leader of interconnect solutions, is pleased to announce a new product addition, our 140 series inline plug & socket connectors.
These exciting new products are an economical wire to board connection. A fine pitch of 2mm (0.079in) helps conserve valuable board space. Low profile accommodates tight board stacking heights. Product is available from 2-16 positions using crimped contacts on wires assembled into the insulator. This mates with the rectangular header portion mounted to PCB available in top or side entry. An audible click confirms the latching and you now have a rugged high continuity connection with excellent shock & vibration resistance!
These connectors are very competitively priced and are precisely tooled to fit tight application design parameters or to help facilitate easy drop-in replacements.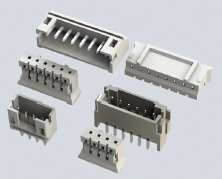 Connect with Us … Experience Makes the Difference!
---
Go Back