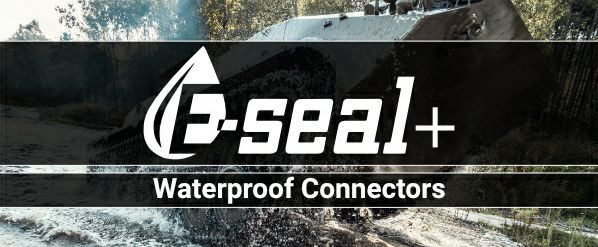 E-Seal+ Waterproof Connectors
The EDAC E-Seal series of IP67 rated waterproof D-Subminiature connectors are available in both standard and high-density packages. Plug & receptacles in 9, 15, 25, 26 and 44 pin versions are available as well as high power combo configurations. Vertical and right-angle footprints, with a variety of termination styles, contact plating thicknesses, and mounting options are available. A solid performer in ruggedized applications and harsh environments.
Waterproof panel mount USB connectors Type A and B standard and micro are available offering IP67 grade protection. Quarter turn, twist and lock, bayonet style system offers easy mating and ultra-secure connections. IP67 waterproof board mount USB connectors feature full epoxy sealing of the contacts and an O-ring seal to the panel.
E-seal waterproof HDMI connectors follow industry standards and are available with a quarter turn, twist and lock, bayonet locking system offering easy mating and an ultra-secure connection. Fully sealed on the back end with an O-ring seal to the panel insures no water ingress. These IP67 rated connectors are fully submersible and deliver high speed video transmissions resulting in very high-resolution images.
The EDAC E-Seal family of waterproof plug and socket connectors provides a reliable interconnect solution in harsh environments. Single or double latch insulator designs insure superior shock and vibration resistance. A variety of styles are available for different wire gauge applications. These utilize simple crimp and poke contacts. Optional contact plugs are available for use when all contact positions are not required. Additional contacts/wires can then be added in the field.


Standard and high density plug and receptacles in 9, 15, 25, 26 and 44 contact pin sizes
Signal along with high power contacts up to 40 amps combined in on connector
Plug shell indents provide grounding and additional mating retention
Mounting options for panel mount or connector mating include threaded inserts and threaded standoffs
Epoxy sealed by special process insuring zero ingress, no wicking up leads, and a smooth molded finish with no air bubbles. Combined with solid O-ring seal to panel
Degree of Protection: IP67 as per IEC60529
Standard USB Type A, Micro USB, Mini USB & bayonet styles are available
1.2Mbps or 480Mbps communication speeds
480Mbps communication speed compatible with USB 2.0 standard
Compatible with asynchronous and isochronous data transfer methods
Silicone rubber seals for tight seal to panel
Bayonet locking system for safe mating under severe vibration or shock conditions
Micro USB board mount and type C available with all rated IP67
Plating options from gold flash to 30u" gold plating
Quarter turn, twist and lock, bayonet style locking mechanism
Silicone rubber seals and fully potted terminals
Hot pluggable
Synchronous or asynchronous high speed data transmissions
Rated current from 3 to 12 Amps for use with wire sizes from 28 to 14 AWG
560 and 572 series offer double latch solution
Available in wire-to-wire and wire-to-board options
True crimp and poke solution
Internal polarization to prevent mismating
Available with wire already installed
Waterproof grade IP52 and IP67 certified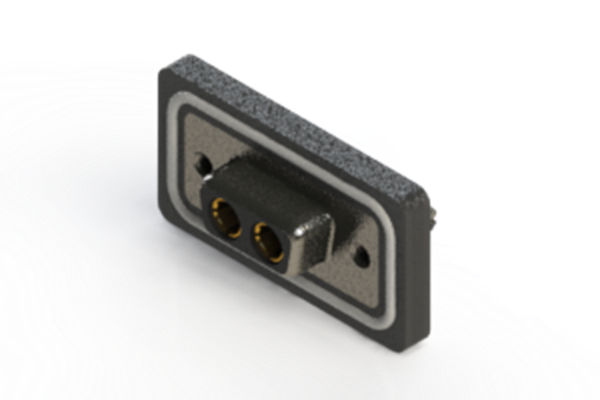 Power Only

Combination

Insulator Material

PBT+30% GF, UL 94V-0, Color: Black

Contact Material

Copper Alloy

Contact Plating

Selective Gold (See Ordering Code) over Nickel

Shell Material and Plating

Steel with Ni or Tin Plating

Shell Material

Nickel Plated Steel

Sealing compound

Epoxy

O-ring Material

Silicone

Current Rating
(Power Contacts)

10 amps, 20 amps, 30 amps, 40 amps

Current Rating
(Signal Contacts)

5 amps

Voltage Rating

125 V

Contact Resistance
(Power Contacts)

1 milliohms maximum

Contact Resistance
(Signal Contacts)

10 milliohms maximum

Insulation Resistance

5000 megaohms minimum

Dielectric Withstanding Voltage

1000 V AC rms at Sea Level

Operating Temperature

-25°C to +85°C

Mating Cycles

500 for 30 Microinches Gold Plating, 50 for Gold Flash Plating

IP Rating

IP67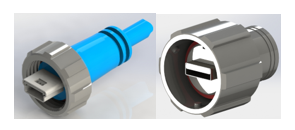 | | |
| --- | --- |
| Insulator Material | Thermoplastic, UL 94V-0 Rated, Black color |
| Contact Material | Plugs and Sockets: Copper Alloy |
| Contact Plating | Gold Plating over Nickel underplating |
| Shell Material | Nickel Plated Steel |
| Rubber Seals | Silicone |
| O-Ring | Silicone |
| Signal Current Rating | 1A Per Contact |
| Contact Resistance | 50 milliohms MAX |
| Insulation Resistance | 100 megaohms MIN |
| Operating Temp. | -25°C to +85°C |

| | |
| --- | --- |
| Insulator Material | Thermoplastic, UL 94V-0 Rated, Black color |
| Contact Material | Plugs and Sockets: Copper Alloy |
| Contact Plating | Gold Plating over Nickel underplating |
| Shell Material | Nickel Plated Steel |
| Rubber Seals | Silicone |
| O-Ring | Silicone |
| Signal Current Rating | 1A Per Contact |
| Contact Resistance | 50 milliohms MAX |
| Insulation Resistance | 100 megaohms MIN |
| Operating Temp. | -25°C to +85°C |

No. of Positions

1, 2, 3, 4, 5, 6 or 9

Pitch

2.0mm (566 series)
2.5 mm (560/565 series)
5.0 mm x 5.9 mm (567 series)
5.8mm (570/572 series)

Rated Voltage

250 V (560/565/566 series)
300 V (567/568/570/572 series)

Rated Current

2 amps maximum (566 series)
3 amps maximum (560/565 series)
8 amps maximum (567 series)
10 amps maximum (570/572 series)
12 amps maximum (568 series)

Dielectric Withstanding
Voltage

1000 V AC (rms) (560/565/566 series)
1700 V AC (rms) (567/568/570/572 series)

Contact Resistance

10 milliohms maximum (566/567/568/570/572 series)
15 milliohms maximum (560/565 series)

Insulation Resistance

1000 megaohms minimum/DC 500 V

Operating Temperature

-40°C to +105°C

PCB Thickness

1.6 mm (560/565/566/570/572 series)